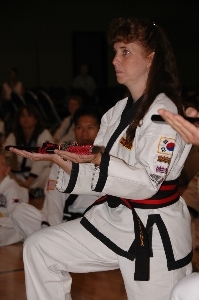 Master Teresa Grissom
5th Dan (Master Instructor)
Martial Arts Academy of Tang Soo Do MN
Lexington, MN
Master Teresa Grissom began her Tang Soo Do training in Walla Walla, WA, under Mr. John Malloy in 1981. When her husband joined the Marine Corp. in 1982, they moved to several locations such as Arizona, California, and South Carolina, but all the while they continued to train. In 1987 she tested for her Cho Dab under Mr. Robert Weichel. In 1989 they moved to Minnesota, and a year later she tested for her E Dan.
In 1992 they founded Circle Pines Karate Institute, and in 1996 she tested for her Sam Dan under then Region 3 Director Master David Schmitt. At this point she had given birth to three children, but this hardly slowed her progression and motivation for training.
In 1999 she became chief instructor of Circle Pines Karate Institute, and in she received her Sah Dan master's rank in 2006. After another studio move to Lexington, MN and a studio name change to MG Karate, in 2014 she received her Oh Dan master's rank at the World Championships.