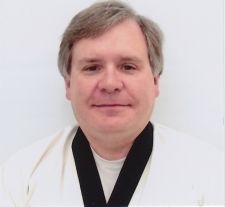 Master Lee Mattox
4th Dan (Master Instructor)
International Martial Arts of Waterloo
Cedar Falls, IA
Master Lee Mattox began his martial arts training in Kenpo Karate in 1982, receiving his black belt in 1989. He also studied other martial arts as a student at the University of Iowa such as Jeet Kune Do, Kali, Judo and a little Aikido.
Master Mattox began his Tang Soo Do training in a little school in Tripoli, Iowa in 1990. When he became cho dan bo (blue belt) his school joined the WTSDA. Despite being failed twice by Master Schmitt and Master Grissom for his black belt test, he persevered and received his black belt in 1994. He would go on to receive his Sah Dan rank in 2012, and then his master's rank in 2013 while teaching at his studio, the International Martial Arts of Waterloo in Cedar Falls, IA.
He loves teaching people on how to make the one steps work and to develop explosive power.